Colorado Plateau Extravaganza
Text by Matt - Pictures by Jenya and Matt
Our friends Casey and Karen were getting married near Fort Collins in the middle of October 2003. Sure, Jenya and I could have flown to the wedding and back within a weekend, but we decided to make a two week journey of it. There was still much of the Colorado Plateau for us to discover. So we gathered up all our camping gear and maps of the southwest and hit the road in our not-very-trusty Chevy Blazer. Yee-haw!
Day 1 - Sunday, October 12th - Travel Day
We left early and took the same old route over Donner Pass, all the way through Nevada, and got to Salt Lake City by early evening. Our pals Hope and Dean put us up in their new house near downtown. We recovered from our 750 mile drive with many hours of chatting. Then we crashed on a futon on the floor and slept through the dogs walking on us.
Day 2 - Monday, October 13th - To Arches we go!
Headed south and then east through some random corners of mid-Utah. This state easily packs the most natural beauty per square inch. Arrived at Arches National Park visitor's center by late afternoon. We were too late to claim any campsites in the park, but early enough to schedule the last two open slots for the Fiery Furnace guided tour tomorrow. With the remaining hours of sunlight we headed to see the famed Delicate Arch. It's a 1-2 mile hike uphill to get there from the road, but since it is the main attraction the trail is packed with people.

Me (and fellow tourists) above the giant bowl, Delicate Arch in back.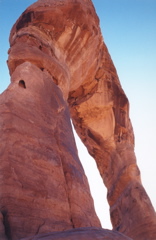 Lesser seen view from base of the arch.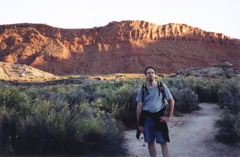 On the hike back to the car. Sun is setting.
As it turns out, there are lots of cheap campsites right on the Colorado River outside the park. There are also quiet and empty. We picked a spot in the Hal Canyon campgrounds under a canopy of trees and set up for our first night in the wild.
Day 3 - Tuesday, October 14th - More Arches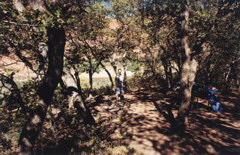 Here I am breaking down camp at Hal Canyon.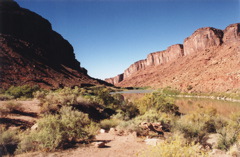 The drive down this particular Colorado river canyon back into Arches.
We headed back into the park and took another quick hike to check out another impressive formation - the Landscape Arch, which is longer than a football field, so we're told.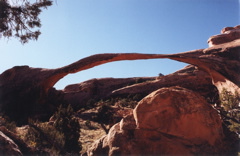 Landscape Arch.
We then drove to the lookout point where we began our Firey Furnace guided tour with a couple dozen other tourists from all over the world.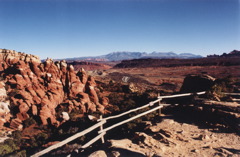 That's the Fiery Furnace to the left and below.
We were skeptical about this guided tour at first, but it was fun and informative and we got many pictures of small, interesting formations. Like this one:

Skull Arch.
The tour was about 3 miles in as many hours and then we called our Arches experience complete for now. We didn't have an exact plan for what to do next, so we went to Moab for dinner then headed up to highway 70 and into Colorado. We landed in Glenwood Springs fairly late and decided to spoil ourselves with a cheap motel room. We'll get plenty of chances to camp later.
Day 4 - Wednesday, October 15th - Into Rocky Mountain NP
We got up, had some continental breakfast then hit the road. Still hungry we stopped in Eagle, found the "hip" part of town (half hippies, half hunters), had some nasty pastries and coffee and browsed some antique shop before getting back on the road. Took all kinds of tortuous, unpopulated highways to enter Rocky Mountain National Park from the lesser travelled backside. Next thing we know we're up at 12000 feet. The altitude made us woozy, which is not so great when driving around steep cliffs.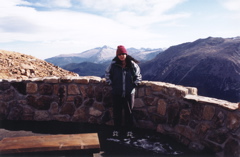 Jenya at one of the scenic turnouts. It's chilly up here!
The altitude dropped a bit as we entered the main part of the park. We eventually claimed a campsite (a bit of an ordeal, as we were hungry and indecisive and moved camp two times before finding the "perfect" site). All told, there was no way to escape the wind and cold.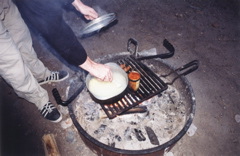 Mmm! Chili mac and sausages for dinner!
Day 5 - Thursday, October 16th - Serious Hiking in RMNP
Woke up and found our tent was knocked over by the wind. We relocated our site again to avoid the strong gusts, but to no avail. It was impossible to make breakfast or coffee as air pushed past us at 60 mph. We warmed up in the visitor's center instead.
Today we spent the whole day hiking. Took the shuttle bus as far into the park as it would go - to the Glacier Gorge trailhead. The bus was full, but people disappeared into the park as we got our jackets and daypacks in order. We were alone when we hit the trail and fifty feet later we stumbled upon two bears: a mother and her cub. Holy shit! We carefully backed up and discussed a new game plan. Neither Jenya nor I had ever seen bears in Yosemite ever, and now 60 seconds into Rocky Mountain we run into two of 'em! Eventually we braved it and just kept going up the trail, making continuous non-startling noise and keeping a non-threatening distance. They didn't really seem to mind us. We were on their tail for a half mile, but they eventually followed a creek elsewhere. Phew.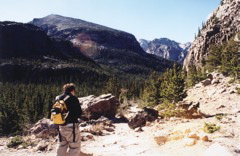 My common pose, carefully re-reading maps every tenth of a mile.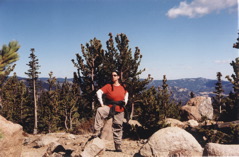 Jenya proudly conquering the mountain.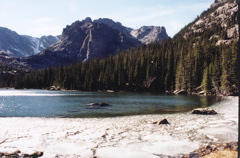 Around 1000 feet up from where we started we reached our first lake, mysteriously called "the Loch."
We continued upward to eventually reach Mills Lake, which is where we stopped to rest before heading back.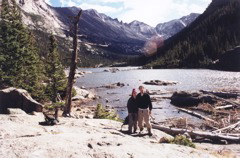 A kindly stranger took our picture by Mills Lake. Dig the yonder toothy ridges.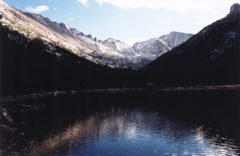 A better view of the lake and the peaks in the distance.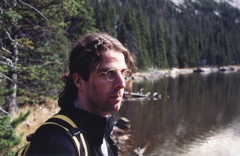 I'm having a good hair day.
We headed back down the mountain and told the people on the shuttle bus about our bear encounter. Apparently there are only a few dozen bears in the whole park, so we were lucky to see any. We got back to camp and rested. It was warmer and less windier than last night.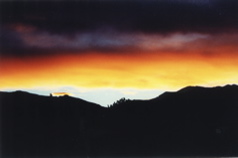 "I've see it rainin' fire in the sky..."
Day 6 - Friday, October 17th - Preparing for the Wedding
We slowly made our way out of the park, taking some pictures along the way.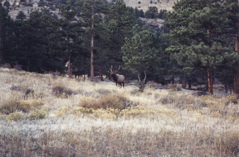 Elk.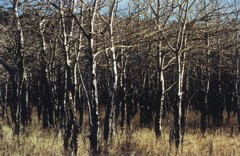 Aspen.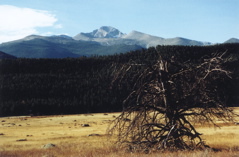 Scenic.
Drove into Estes Park and hung out for an couple hours diggin' on all the touristy shops. We failed to find the hotel where they filmed "the Shining." Eventually headed further east to Loveland where we checked into the Sylvan Dale guest ranch. Finally met up with Casey and Karen at the "rehearsal barbecue" in a nearby park. Good fun. At night, we played endless hours of ping pong in the lodge.
Day 7 - Saturday, October 18th - Horsies and the Wedding
In the morning rode horses around the ranch. This was the first time I ever sat on a horse, much less rode one. Jenya, however, is a seasoned cowgirl and was ridin' around like a champ. There were pictures taken by others but none ever got sent to us. Oh well. The wedding was in the late afternoon. Only just now did I get asked to provide the wedding music. I improvised pretty chords during the ceremony.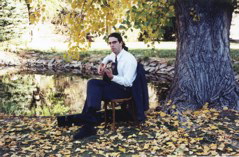 Another wedding gig.
After the wonderful ceremony came the fun dinner. Disposable cameras were set on each table to record the event. Jenya and I used some to record a set of prank photos (drunken brawls, stealing presents, passing out underneath tables, etc.). Then more ping pong.
Day 8 - Sunday, October 19th - Loveland to Montrose
We had brunch at the ranch with the happy couple and then embarked on the second half of our wild journey. Headed south through Denver (been there, done that) and entered the southern half of the state where neither of us had ever been. The views were so awesome that we couldn't help but keep driving and driving to see more and more of it.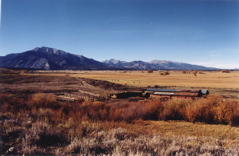 Cruising down Highway 50.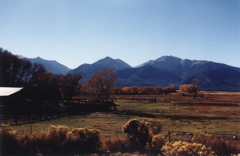 More farms and mountains.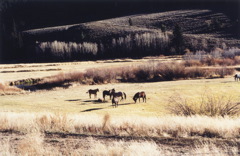 Lucky horses get to live here.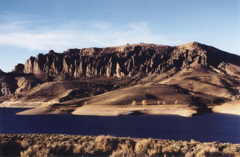 Blue Mesa Reservoir near Montrose.
The sun was setting as we entered the town of Montrose. "Welcome hunters" signs were everywhere. We discovered the best restaurant in the world: Starvin' Arvins. For like $8 each we got a half butternut squash smothered in butter, a big ol' muffin, lot of potatoes, salad, bottomless soda and a large, yummy main course. We were pleased. Got a motel room for the night.
Day 9 - Monday, October 20th - Black Canyons to Blanding
The continental breakfast included do-it-yourself waffle bar. That was a nice treat. Recently the nearby Black Canyon of the Gunnison National Monument became a National Park. While we were in the neighborhood we figured we might as well check it out. It was a pleasant surprise. Black, narrow canyons dropping 2000 feet down. Wow.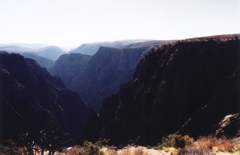 Mysterious and beautiful.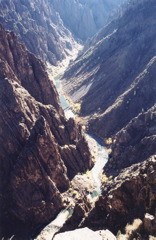 Way, way down.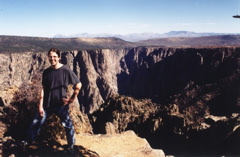 Close to the edge.
Jenya and I left the park and got lunch back in Montrose. We ate once again at Starvin' Arvins and was not disappointed. Then we checked out a small strip of antique shops. We were falling in love with this town, but had to get back on the road again.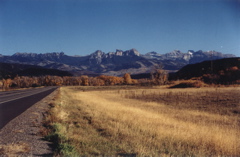 San Juan Mountains as seen from Highway 550.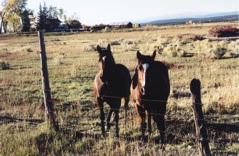 Jenya stopped to say hi to the horses.
We almost hit a deer at full speed. It jumped onto the road twenty yards in front of the car. Jenya screamed, then I screamed. But Jenya's swift, precise steering saved the day. Phew.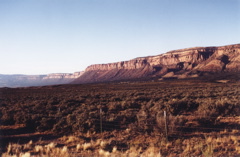 Near the Utah border on Highway 90. We're in the middle of nowhere. The nearest town is called "Paradox" and has like 20 people.
We crossed into Utah and made it to some public campground off the highway by nightfall. Sufficiently creeped out by the bear warning signs (?!) and, frankly, the looks of the few other campers, we headed further south into Monticello and pressed on into Blanding. Talk about small towns. The only food establishment open was the Taco Bell attached to the one gas station. We selected a cheap motel for the night. The proprietor was so spooky that Jenya later referred to him as "Mormon Bates."
Day 10 - Tuesday, October 21st - Finally Backpacking!
We weren't axed to death in our sleep. Cool. After brunch in town we drove to the Cedar Mesa area and got permits at the Kane Gulch ranger station. The rangers were super nice and informative as we planned our excursion into Grand Gulch. These canyons contain lots of undisturbed Anasazi ruins and scratchings. As one fellow backpacker described as we headed out, "it's lousy with art."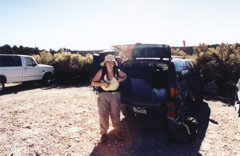 Getting suited up before the eight mile trek.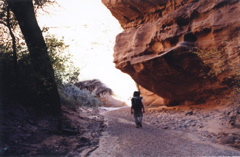 Trudging down Kane Gulch.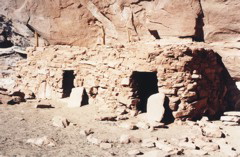 The first set of ruins, at the confluence of Kane and Grand Gulches.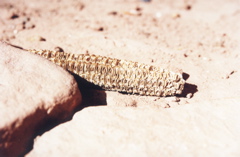 Remnants of corn on the cob consumed about 1000 years ago.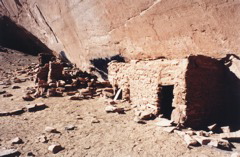 "Turkey Pen" ruin.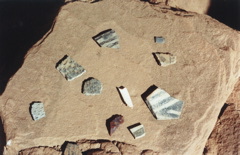 Bits of old pottery conveniently assembled by previous hikers.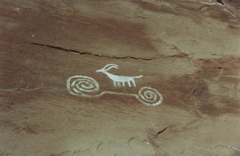 Some minimal wall art.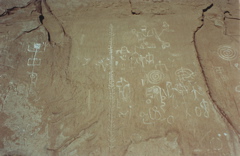 Motherlode of art.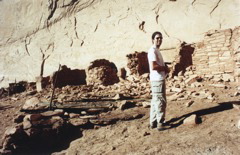 I examine yet another set of ruins.
We finally reached Todie Canyon, an offshoot from the gulch. This is where we would camp for the next two nights. What's the difference between a canyon and a gulch anyway?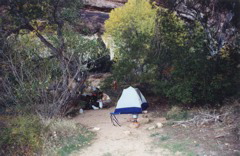 Jenya setting up dinner.
We ate some delicious camp glop, gazed at the brilliant stars above the quiet canyon, then crashed to sleep in our cozy little tent.
Day 11 - Wednesday, October 22nd - Grand Gulch Day Two
The only active spring is about 200 yards away from camp. I made several treks there during breakfast to replenish our supply. Then we went on a long day hike further down the gulch and back.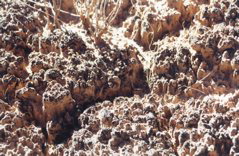 Cryptobiotic soil - do NOT step on it!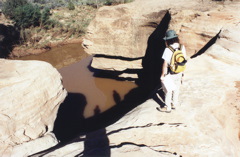 Big puddle.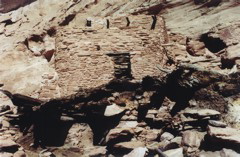 Castle-like "Split Level" ruin.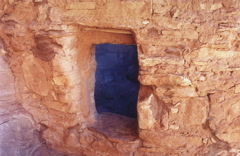 Peek-a-boo!
Back at camp we made another meal and discussed our long trek back up and out of the canyon tomorrow. We nearly exchanged car keys with other nearby campers who came in through Todie Canyon, just so we all could go out a different route than we came in. But this wasn't meant to be.
Day 12 - Thursday, October 23nd - Grand Gulch to Page
The hike back out Kane Gulch was slow and uphill, progressively hotter as the we become more exposed, and more frequently peppered with stops to rest our aching feet. Still it was as impressive going out as coming in.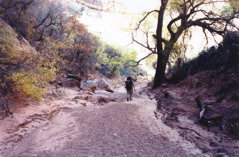 Trudge trudge trudge.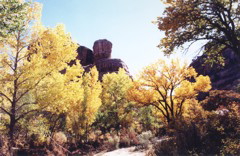 Different flora as we returned back up to the flats.
We originally planned to just head east but Jenya never saw Monument Valley, so we headed south down on 261. On a whim, we took one unmarked dirt road turnoff which, after about 10 miles, led us to "Muley Point" which quickly became our favorite lookout point in all of the Colorado Plateau. These pictures barely do it justice.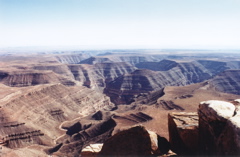 Cliff edge looking 2000 feet down to San Juan River canyons which dip down another 2000 feet.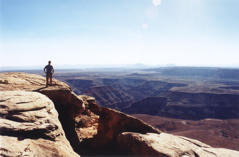 Everyone should stand at this very point.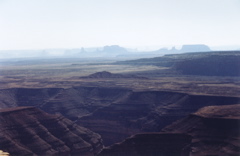 As an added bonus: There's the entire Monument Valley in the distance 60 miles away.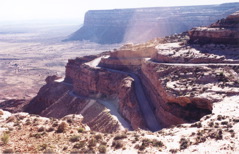 Moving on: The treacherous switchback drive down.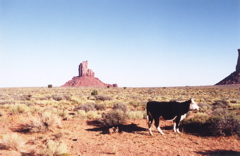 Gratuitous cow shot.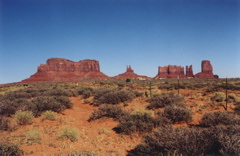 Classic Monument Valley scene from the highway.
We drove down through Mexican Hat and Kayenta, soaking up the vast Arizona scenery until we hit Page, which by recent comparison seemed like a bustling metropolis. There we discovered our favorite southwestern motel: Bashful Bob's. Bob himself checked me in. For $29 we got a double room with cable, a full kitchen, and a laminated sheet of his own humorous poetry. He also threw in a couple granola bars and ballpoint pens as part of the deal. Having started the day with an eight mile uphill hike with packs on, we were very happy to end the day with a trip to the local steak shack where we dug into racks of pork ribs. Oh yeah baby.
Day 13 - Friday, October 24th - Grand Canyon and More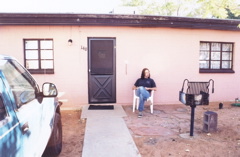 Lounging outside Bashful Bob's motel.
Got bad coffee and cheap breakfast burritos and headed south on Highway 89. While in this neck of the woods we figured we'd stop and see the north rim of the Grand Canyon for once. Took many scenic stops.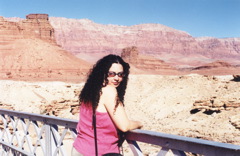 Jenya on the Navajo Bridge over Marble Canyon, just before Lee's Ferry.
We stopped in the Lee's Ferry monument, checked out Emma Lee's cabin and dipped our fingers in the cold Colorado river. Then headed on the 45 mile highway off 89 to the north rim. The visitor's center was open only because it's been unusually warm this year. Most services were shut down for the season. We took a little hike.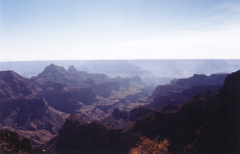 The Grand Canyon's backside. Fairly impressive.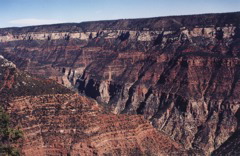 Geology is cool.
Back on the road we eventually made it up to Kanab and into Zion National Park. Like our last visit here we just drove on through without really stopping, but we'll be back.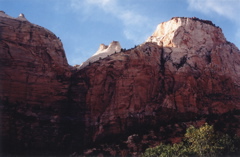 Zion formations. Speaking of cool geology...
After dinner in Springdale, we zipped into Nevada and got through Las Vegas as quickly as possible. Night fell, but we had no plan, and suddenly we were on long stretches of two-lane highway with trucks coming at us from the other direction and blinding us with their headlights. Realizing how long and boring the drive to Reno would be, we made a left turn at Beatty and snuck into Death Valley. But first we had to drive 30 miles of totally dark, empty desert. This is where people are abducted by UFOs. The vast emptiness freaked us out. We arrived in the heart of Death Valley around midnight. Bugs everywhere. Jenya remembered there was a free campsite further into the park so we headed there. Instead of waking up fellow campers with our clumsy tent assembly in the dark, we ended up just sleeping in the back of the car. Oy.
Day 14 - Saturday, October 25th - Yosemite and Home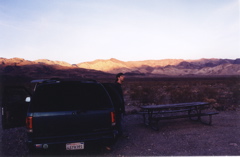 Enjoying the warm October sunrise in Death Valley.
The home stretch is upon us. We had brunch in Panamint Springs and headed northward on Highway 395 so we could cut over on Tioga Pass, taking a shortcut through Yosemite on the way back home.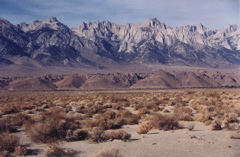 The backside of the Sierras. One of these is probably Mt. Whitney.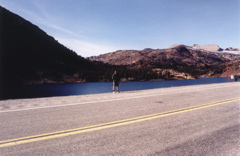 Jenya near the top of Tioga Pass.
Once through Yosemite it was smooth sailing back to our house. Hello Oakland! We ordered Thai food and were joined by our friends Brad and Linda, who were housesitting in our absence. Over pad thai we discussed our adventures: 14 days, 7 national parks, a 3-day backpacking trip, a wedding, horse back riding, and more.
The End