Paria Journey
Text and Pictures by Jenya and Matt
We left Oakland at some reasonable hour of the morning (9-ish?) in a rental jeep piled to the roof with packs, bins, boots and dehydrated snacks, and were enjoying burgers and suds in Springdale, UT by sunset. Marvelous what can be acheived when you get in the car and just drive. Following a tip from the waitstaff at the burger joint, we headed off to camp in the Coral Pink Sand Dunes State Park. The route to the campground was a remote backroad heavily populated with jackrabbits. Avoiding them as they darted across the dark highway was like some kind of demented arcade game. Matt successfully missed about a dozen of them, but finally nailed one as it leapt right under the jeep. A moment of silence for this bunny. Got to the campsite without further carnage, and hiked out on some nearby sand dunes under a bright full moon before retiring to our tents.
After getting our bearings in Kanab the following morning, we left the car at the White House trailhead at the top of the Paria Canyon and caught our pre-arranged ride to the Wire Pass trailhead so we could get an early start the next day...
Day 1 - Tuesday, May 24th - Wire Pass, Buckskin Gulch, and the Paria River confluence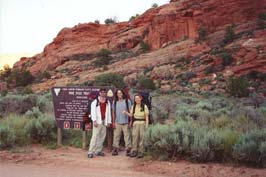 Group photo at the trailhead courtesy of our kindly shuttle driver, Betty Price.
Packed up and got an early start (6:30am) into Wire Pass, the shortcut into Buckskin Gulch. Apparently this particular canyon has been recently designated "number one hike in the world" by National Geographic adventure series, although I'm not sure what their criteria are, and there are a lot of hikes in the world. Nevertheless, this hike is one of unsurpassed beauty. Immediately you are winding your way through tall, sculpted sandstone narrows, some that are shoulder-width, and it just doesn't stop all day.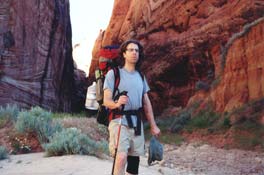 Matt, primed and ready for the long trek ahead.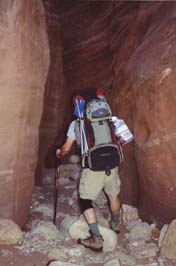 Matt negotiates Wire Pass.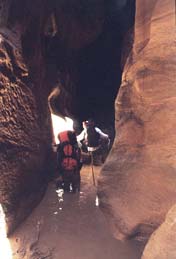 One of many pools of muck to slog through. A group of hikers coming out through Wire Pass the night before described it as "like wading through elephant dung."
The narrows and other formations are continually breathtaking for the next 13.5 miles until you reach the confluence with the Paria river. While there are no hills to climb, it's no easy 13.5 miles, trudging in the thick muck with a heavy pack. We'd heard about the "cesspool" but it was never clear to us which of the many cold, muddy pools had this designation...though none of them were more than thigh deep, it was creepy to think what might be festering at the murky bottom. In fact, the canyon offered us a cornucopia of critter corpses, including a hawk, a lynx, a snake and several rodents.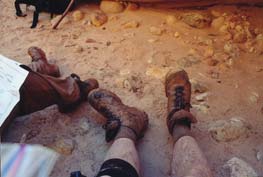 Matt's mucky boots (and legs) halfway into the first day.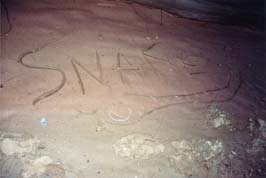 Snake! Snake! Argh, it's a snake... (we think it was dead.)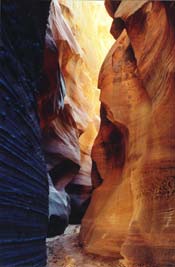 The noon sun sneaks into the narrows. This is the shot that justified hauling in the tripod!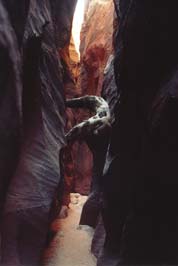 It's Log!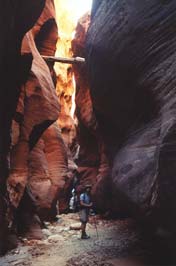 It's like doing the limbo, but much easier.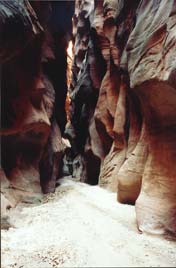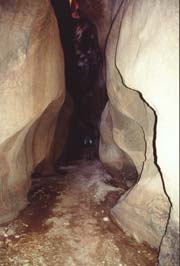 It's hard to describe the dark, quiet, cool mystery of the place. And it just goes on and on like this...
At one point we sang, and it was lovely how our voices reverberated in the canyon walls.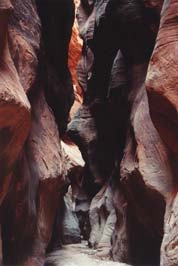 More amazing narrows.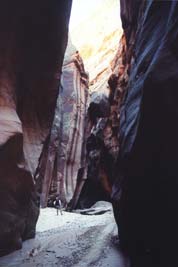 A big chockstone above.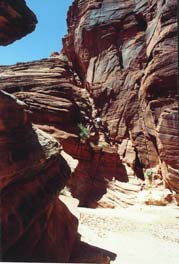 Anthony attempting to escape via the Middle Trail exit. Later on, we met a group of hikers who had actually come down into Buckskin via this route. Didn't seem such a bad scramble up, if you're a decent scrambler, but kind of a sketchy downclimb!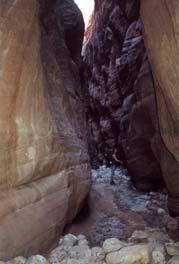 Anthony, utilizing his homemade duct-taped, moleskin-wrapped staff.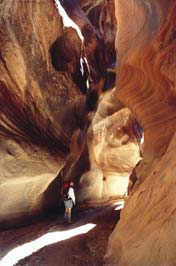 Stopping to take in a rare spot of sunlight.
It took some time to get past the boulder jam toward the end of Buckskin, which required descending through a hole with the aid of some rope ladders that had been left there (if there was an easier way, we didn't find it), but we hit the confluence of Paria around 6pm, just under 12 hours after starting. When we finally got to our campsite at 7pm, we were pretty thirsty, but only had two liters of water among us to last the night and the following morning. While the water in the Paria is far more tolerable to walk in than the stagnant pools in Buckskin, it has the same temperature, consistency, and color of a Frappuccino, rendering it pretty much unfilterable.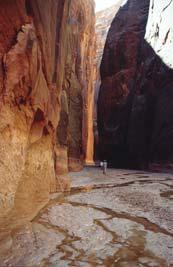 Buckskin Gulch at the confluence with the Paria. A wowie place.
Day 2 - Wednesday, May 25th - Down and back up Paria in search of water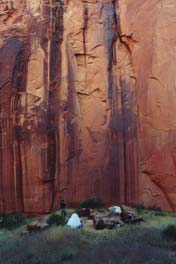 The Little Campsite by the Big Wall. This is actually a view of our campsite from further up the hill, and you cannot tell but the river is actually between our hill and that wall. Ravens lived in the wall behind us, waking us up in the morning with their raucousness.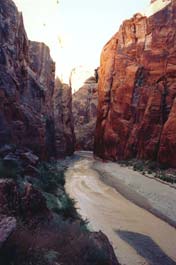 View northward up the canyon from our campsite.
In the morning we woke up, made tea, wrangled our plaster-stiff socks and boots that had been impregnated with Buckskin mud, and took a day trip further down the Paria with our camera and stash of empty water containers.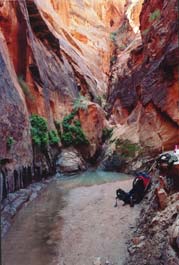 The first spring...precious liquid of life.
Rehydrated, we headed another 2.5 miles down the river to a bigger spring (like a faucet coming out of the rock) and back. Lots of splashing through the river and gawking up at the crazy canyon features saying "wow."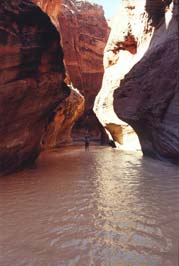 Sloshing through the narrows of the Paria. This canyon is totally spectacular in its own right.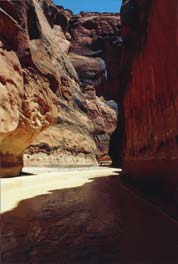 One of many magnificent meanders.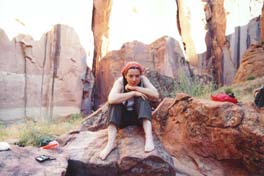 Jenya relaxes back at the campsite.
Day 3 - Thursday, May 26th - Up and Out of the Paria
Packed up our campsite and headed up Paria river, taking a short detour back up Buckskin in order to take some more pictures unencumbered by packs and fatigue. It was worth it, as the morning light seems to favor Buckskin Gulch, and when we'd come out this end last time, it was early evening.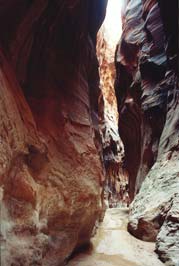 Lower Buckskin Gulch.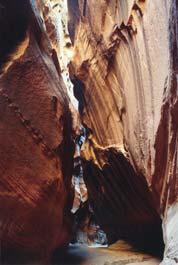 Cool undercut feature.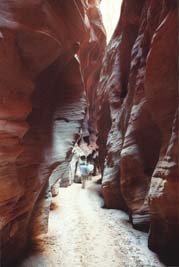 Matt and Anthony blur past big faces in the rocks.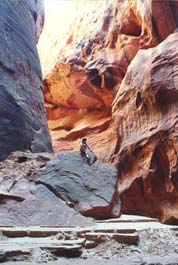 Matt rests after a bouldering challenge.
We headed back to the Paria and started to make our way out of the canyon, taking a quick break at Slide Arch for an early lunch.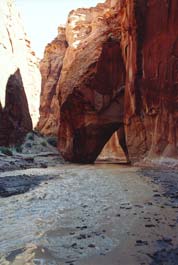 Slide Arch (Or is it a bridge? What's the difference?).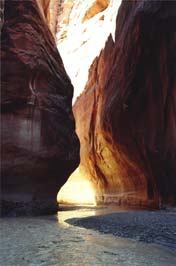 A glance backward at the magical glow of sunlight on the Paria inspired this photo - the last photo in the last roll, so there are no more pictures of the hike up the river. Mostly it was dreamy, warm, and golden, interrupted at times by rougher crossings where one of us would stumble for footing on the rocks underwater. The river rushed past us in the opposite direction and the canyon walls shrank to nothing as we hiked the 7 miles back to the Whitehouse trailhead where our car awaited us (with gallons of clean, fresh water inside). Greeting us was a grove of various wildflowers, so we got more film out of the car...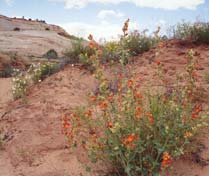 Globemallow.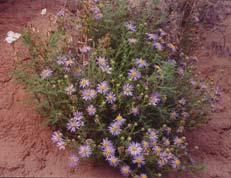 Tansyleaf Aster?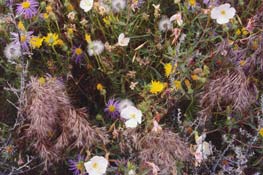 A bouquet.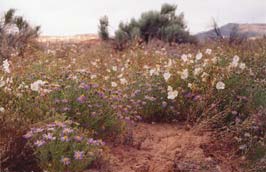 More flowers..
We cleaned ourselves up and headed to Page, AZ to spend the evening.
Friday, May 27th through Wednesday, June 1st - Toolin' around the Southwest.
After rewarding ourselves with plates of salad and pork ribs at the local diner, we spent the night at Bashful Bob's Motel in Page, AZ - the only night on the whole trip that wasn't spent in tents. Oddly enough, Matt and Jenya had this exact same room last time they stayed overnight in Page.
.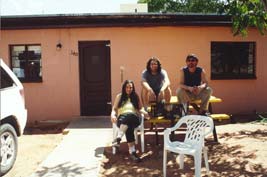 A long, happy day was spent driving up Cottonwood Canyon Road, a very scenic dirt road that cuts up across the Grand Staircase Escalante National Monument from Hwy 89 to Hwy 12. Despite a storm in the distance, we kept going hoping the road never got too muddy to traverse even in 4-wheel drive. As thunder rumbled in the distance and rains picked up we scrambled a few hundred feet up to the top of Grosvenor Arch. This defied good sense, as we were basically begging to be struck by lightning, but it never happened, and we were treated to gorgeously dramatic skies.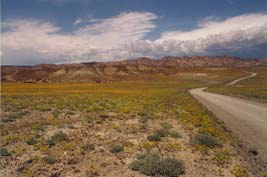 Wildflowers along Cottonwood Canyon Road.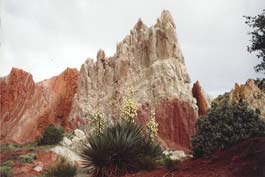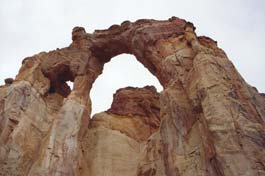 Looking up into Grosvenor Arch.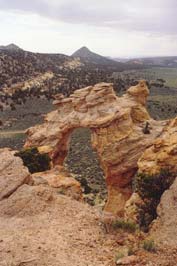 Up above the arch.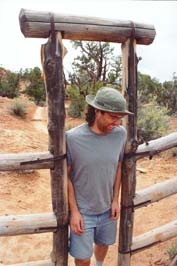 Squeezing through the narrows...
The little storm passed and we continued into Kodachrome Basin state park. After another scenic loop hike we went in search of a campsite nearby but were faced with the horrific realization that it was now Memorial Day weekend and there were actual people clogging all the facilities. We headed down a 4WD road to seek out BLM land for camping, but even there we found it impossible to locate any useful, unoccupied space. Finally, as the sun set, we found a semi-flat space and began pitching tents. Our brief sense of relief ended when a half dozen cows appeared and trampled right past us. They were eventually replaced with an equal number of giant black spiders. After Jenya recovered from the trauma of spilling a lavishly prepared pot of pasta on the ground, we cut our losses and moved further down a side road to a better site. The site was hereafter christened "Pasta Falls."
The next morning we woke, made pancakes and decided that we should head for higher ground to get away from the crowds. So we went a few miles north to Boulder Mountain (11,000 ft) in the Dixie National Forest. The retired couple at the ranger station were incredibly friendly but couldn't give us any information about trail conditions, as it was their first day there. So we claimed a public campsite nearby. Some brief exploration revealed that most of the trails on the south side of the mountain had too much snow to hike very far. Back at camp we made dinner and since it was getting down to about 40 degrees we made a fire for warmth and the roasting of marshmallows.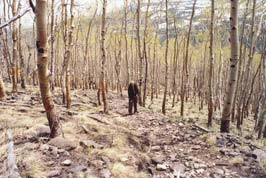 The Aspens were just starting to bud.
The next day we did a beautiful and strenuous dayhike up the Meeks Lake trail. We started around 9,000 ft and climbed to 10,800 ft, to a ridge with a stunning 360º view overlooking a large portion of the hot, dry canyonlands to the east. We had hoped to continue to the lake but the snow was getting too deep so we turned back. Weary of dinners that had to be rehydrated, we stopped in the town of Torrey to buy Bratwurst and buns and had a real camp barbeque before another chilly night descended upon us. Good thing we brought the down sleeping bags!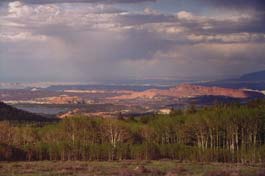 The view from Boulder Mountain in the Dixie National Forest, looking down on Capitol Reef and the Waterpocket Fold.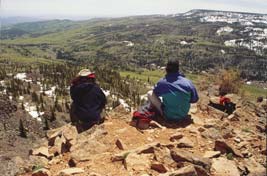 Viewpoint on the Meeks Lake trail.
Sloppily-assembled panorama from the viewpoint.
The Memorial day travellers were heading home at this point, so we packed up and headed back to the warm desert of Capital Reef national park.We did one short 4 mile hike in/out of Surprise Canyon, which was described as a "slot canyon," but wasn't (surprise!). Along the way encountered a rattlesnake but we left each other alone. At the end of the canyon we scrambled a few hundred feet up a steep pile of giant rocks in hopes we could climb out and down into another canyon, but the path was never revealed to us. Afterward, we poked around the rest of the park taking short hikes at various other scenic points. We found a campsite that night on the outskirts of Torrey.
The following day we got up early so we could make it to Great Basin national park before noon. This would be the only national park in Nevada, except for the fact that part of Death Valley juts slightly over the border. The plan was to hike out to the 4,000 year old bristlecone pines and maybe climb Wheeler Peak (13,000 high), but (surprise!) everything above 10,000 feet was still under many feet of snow.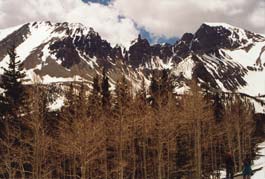 Snow-covered peak of Mt. Wheeler in Great Basin, NV.
Drove most of highway 50 across Nevada which was a feast of amazing cloud formations over countless summits and valleys. Stopped in Carson City for some Mexican food. Anthony used to live around these parts, so he led us to a campground where he spent a few weeks many years ago. This is where we set up for the night - our final night erecting the tent, blowing up the thermarests, etc.

Got up Wednesday and desided to come home by way of Lake Tahoe, since none of us were in a hurry to re-enter urban society. It was a lovely day, and we took a stroll down to the water and basked in the sun for a while before driving all the way around the lake to find a trail into the nearby Desolation Wilderness. A short hike up to the nearest lake ended up being quite a little workout - it was at least a 1,000 ft. climb in two miles - but we enjoyed sitting by this snowy alpine lake eating our last scraps of jerky, dried fruit, and gorp, before our return to the concrete jungle.
The end!