- Bands, News and Gigs
- Sound Samples
- Discography
- Defunct Projects


Home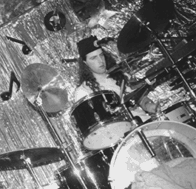 Music is my religion
piano, guitar, bass, drums, voice, composing, recording, performing
---
(For sounds/CDs/etc. check out freemusicguy.com!)
Links to some active bands/projects I am in (or at least loosely affiliated with):
- MoeTar - Brand new all-star prog/pop band
- Three Piece Combo - Instrumental experimental rock trio
- Fuzzy Cousins - Opposable thumb rock duo
- Midline Errors - Solo pop/experimental/vanity project
- Research and Development - Big band prog/funk
- Casino Royale - 60's cover band extraordinaire
- The Fuxedos - Lounge freak-out punk jazz what the hell?
- Faun Fables - Fuzzy Cousins performed with them (as opener and "backing band") on tour in spring 2006
- JOB - Noisy, cathartic stuff - not "free jazz"
- Dropsy - Catchy, upbeat, jazzy pop for cynical people
- Immersion Composition Society - A real life musical Fight Club
- Mumble & Peg - Indie rock. Not "folk." Not "classic rock."
Other important links: Sound Samples - Discography - Defunct Projects - Matt's Mega Music Store
---
Music News - Last Updated: May 3, 2009
Enter MoeTar - a new band with Tarik on bass, Moorea on vocals, me on keys, Matthew on guitar, and Dave on drums. We're going to kick some serious butt - first gig at the end of May (maybe a secret warm up gig sooner). Be there!! ----- Fuzzy Cousins just released their debut CD! It is in our hands! We're going to sell it, maybe shop it around, and start working on new material - which will sound more like sexy funky disco. ----- Three Piece Combo is creeping along. Show here, rehearsal there. Someday I'll get time to continue mixing the stuff we already recorded for the second CD. It's still very exciting being in an Oakland art rock band. ----- Research and Development is coming and going, mostly focusing on recording at the moment, and is still a giant 10 piece (five horns, two guitars). I'm retooling some material perform with this group, if we do get some gigs. ----- The Fuxedos exists in both LA and SF simultaneously, which adds to the enjoyable chaos of this endeavor. The CD is actually done! Once it's released we're going to take over the world. ----- Casino Royale (and all possible variants) always has a gig or two coming down the pike, very few of which probably pertain to you. Nothing personal. We're pros. ----- The first Midline Errors CD is completely mixed, and pretty much mastered. Meanwhile, production work on the second CD has already begun but funding is scarce so it progresses very very slowly. But a band actually exists at this point, which is very neat. ----- The Dropsy CD is being sold or handed out to anybody who wants a damn copy. We still talk about reforming but it never happens, though Dave moved in two houses down this past year, so that may inspire more discussion about this topic. ----- Believe it or not the second JOB full-length CD (called "North") is still almost done - Jai Young and I are pretty much done with the mixing (except for maybe one song) and hope to really get it out soon (especially now that this kind of music is coming back into style...?).. ----- Species Being was suddenly showing up back on the radar but kinda fell off again as Jai Young and I couldn't sync up our schedules. Sorry, Frank. We did meet up a couple times last year figuring out a "new direction." It might still happen. Frank and I still threaten to do something as some kind of unit. Keep your eyes peeled. -----
---
Upcoming public shows:
With The Fuxedos:
We're one of the acts at the "Hubba Hubba Review Show" taking place within the DNA Lounge in SF (11th Street in SOMA). This event apparently has a Creepshow/Texas Chainsaw Massacre/insane asylum feel to it. This is happening on Friday, May 15th, and rumor has it that we hit at 10:15pm. That's 10:15pm sharp!
With MoeTar: A secret warm-up gig that's not so secret: We'll be playing one of the main stages as joggers are going by during the annual Bay to Breakers race in SF on Sunday, May 17th. This is one of the earliest gigs I ever played - I think downbeat is at 8am, and we'll be entertaining the passing runners for a couple hours.
With MoeTar, Research and Development, and maybe even miRthkon:
Save the date! On Saturday, May 30th, MoeTar will be making its official club debut on stage at the Starry Plough, playing more notes than you can possibly imagine. Then miRthkon hits the stage, celebrating their brand new CD (finally!) - and I may sit in with them for a tune or two. Closing the night is the bigness (10 pieces!) and funkiness of R&D! Come early early early as not to miss the majesty of MoeTar, then behold the greatness of miRthkon, then stay late and let R&D shake your booty in 21/8!
With Midline Errors and Research and Development:
Yes! Midline Errors squeezed onto this bill, and its about damn time we play another show! So don't goddamn miss it! Of course, I'll be also rockin' it with R&D who'll be headlining. Where? At 21 Grand. When? Saturday, June 27th.
With myself and perhaps several others from the improv scene:
Every third Monday of the month Lucio puts together an improv hootenanny at the Ivy Room (yeah - the bar right there on San Pablo in Albany). As I write this it's a ways off (Monday, July 20th) and unclear who else is playing that night (and who I'll be playing my set(s) with) - that's part of the adventure/fun!
---
Old gig archives/tour stories:
2009
2008
2007
2006
2005
2004
2003
2002
2001
2000